Direct Trading Technologies - . - .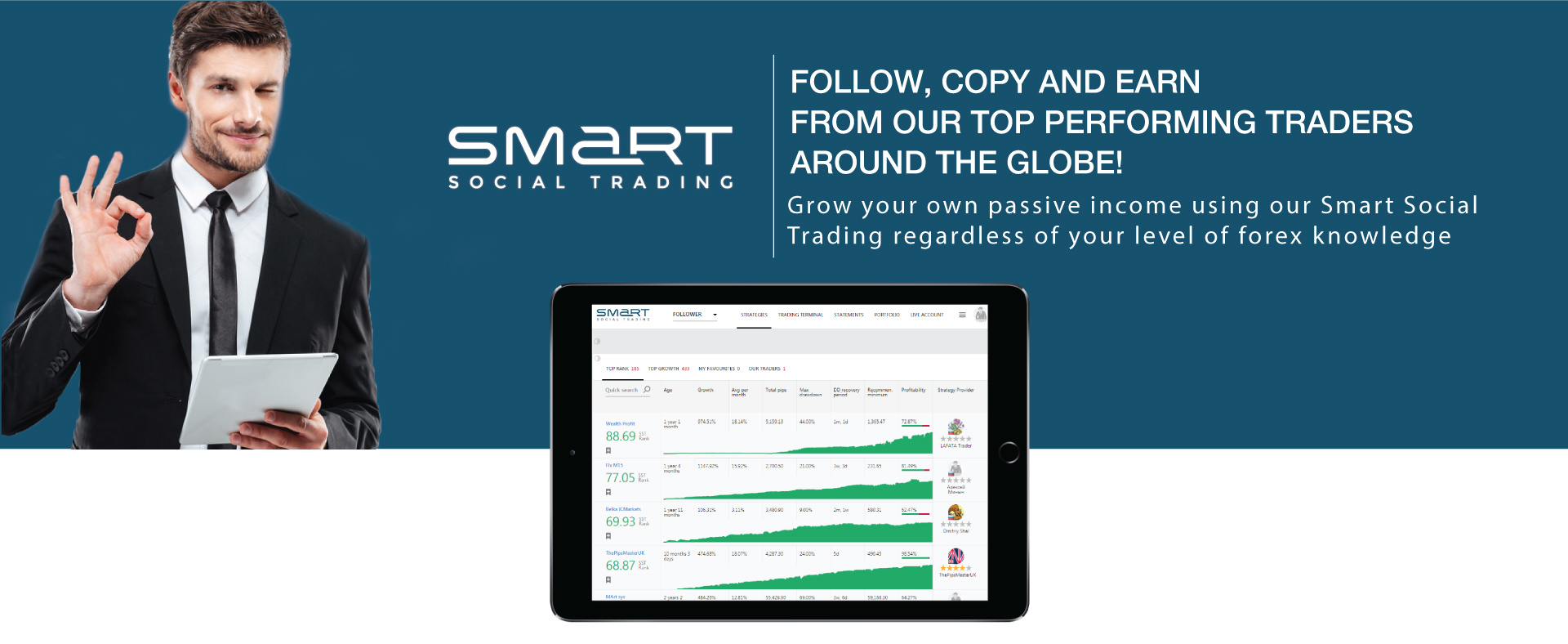 What is Smart Social Trading?
---
Smart Social Trading is the leading online and mobile Social Trading platform. It enables investors to select from a range of 300+ strategy providers to copy from. Start to replicate their trades automatically in your own trading account. Our unique platform allows you to limit your losses, while at the same time gives you full control of your portfolio as trades will be copied either proportionally or according to your personal settings.
Features?

Become a Strategy Follower

MORE THAN 300+ STRATEGY PROVIDERS


A global network of more than 300+ strategy providers to choose from.

MANY TRADE & RISK ALLOCATION METHODS


Many trade & risk allocation methods to choose from compared to other copy trading platforms.

AUTOMATICALLY ADJUST THE RISK & SIZE OF LOTS TRADED


Ability to set the ratio between your account & strategy provider, so that you can automatically adjust the risk & size of lots traded based on your capital.

SET YOUR OWN ACCEPTABLE MAXIMUM LOSS


Ability to set your own acceptable maximum loss as well as take profit.

FAST DEPOSIT & WITHDRAWAL


Fast deposit & withdrawal using many different options.

DEDICATED SUPPORT


Dedicated support to help answer all your questions.

Fill the following information:

NOTE:

Minimum amount to open a Smart Social Trading Account is: 100 USD
Leverage on Smart Social Trading Account is 1:100
All Smart Social Trading Accounts are placed on VIP spreads with a 1 pip

commission charge
Performances of Strategy Providers
Join Our Newsletter
to receive our
latest
updates
Direct Trading Technologies (UK) Ltd, a Financial Services Company authorised and regulated by the Financial Conduct Authority (FCA) under the license FRN 795892 (for Professional and Institutional clients).
Direct Trading Technologies Inc., a Financial Services Company authorised and regulated by the Superintendency of the Securities Market of Panama through Resolution No. SMV-701-17.
Direct Trading Technologies Ltd, a Financial Services Company authorised and regulated by the Vanuatu Financial Services Commission at the Republic of Vanuatu, Register No: 40169
Direct Trading Technologies Ltd, a Financial Services Company authorised and regulated by the Central Bank of UAE (Sterling Financial Brokers), Register No: 4

2023 © Direct Trading Technologies LTD. All Rights Reserved
Risk Warning: Leveraged products carry a high level of risk, and may not be suitable for all investors. Ensure you understand the risks involved before trading:
Risk Disclosure
Risk Warning: Leveraged products carry a high level of risk, and may not be suitable for all investors. Ensure you understand the risks involved before trading:
Risk Disclosure